Welcome to the New Deer St Kane's Website


This is an archive of the old site - please visit www.stkanes.org.uk

New Deer Church of Scotland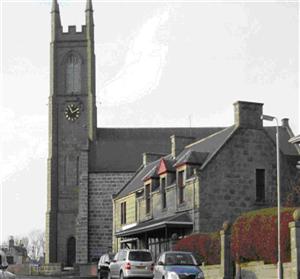 St Kane's Church and church centre


"Where everyone's welcome, nobody's perfect, and anything is possible"

New Deer Church is a Christ-centred, biblically- focused family of faith. We move forward each day as we respond individually and together to the transforming love of God. We enjoy and serve God in our teaching and learning. We serve God in our Sunday worship and we enjoy service to God in our community. We serve and enjoy God in our personal lives. We love God and God's gift of life as we learn what it means for us to be followers of Jesus.

St. Kane's is a Church of Scotland (presbyterian) church in New Deer, a village in North East Scotland. Click here for a map of our location (the Church Centre is right next door to the church). Thankyou for showing an interest in us by visiting our site! Please take some time to explore our site and find out more about us. We enjoy good fellowship together and hope you will join us either at our service on a Sunday or at one of the groups running during the week. Young people, please go to our section on youthwork.

If you or your relatives are featured in any of the pictures on the site and you'd like a high resolution copy for printing, please email webmaster(at)stkanes.org.uk with details of the images you're after.





New to Christianity, or just interested?



St Kane's run Alpha courses from time to time, if you are interested in attending one please contact us so we can answer any questions you might have. Follow this link for details...

Currently we are running a 'Grace'Course this is a follow on from the Freedom in Christ that we have done previously. If you are interested in joining a future course please contact us.



Whats happening at St Kane's in the future?




Kirk Shoppie starts Monday 27th April 1.00pm - 4.00pm
then Tues - Fri 1st May 10.00am - 4.00pm
Sat 2nd May 10.00-12.00
Tues 5th - Fri 8th May 10 00am - 4.00pm




Vacancy


St Kane's is in vacancy, Pastoral duties will be undertaken By the Rev. Billy McMillan, who has been appointed Interim Moderator.

His telephone number and email address are:

01888 560 727. revbillymcmillan(at)aol.com

We are currently seeking to call a minister - please take a copy of our parish profile.

Mustard Seed Cafe
Open Monday - Friday 10.00am - 4.00pm



Click on the diary link on the left to search the complete diary


Sorry, there are no events to display.




Recent News



What's been going on at St Kane's recently? Click on the news archive link on the left to search the full news archive



The St. Kane's website has been updated. The address is still the same: www.stkanes.org.uk, but we've kept the old content on this alternative address in case anyone would like to see it still.
The boys had their parent night tonight, the inspecting Officer was Alasdair Brodie, who recently retired as Captain of 1st New Deer BB'S, Rev Billy McMillan opened the evening with prayer, and a representative from The Guidedogs for the Blind came along to receive a cheque from the boys for over £130, the sum raised by the boys from their 'coppers' Carley the puppy came too ! The boys marched , demonstrated how well they fold their jumpers and played games with the parachute, before the presentation ceremony. 4 2nd year boys will be moving on to junior section. Parents and ... (Show full article)
The latest edition of St Kane's Matters - our Newsletter - is available to download now
We have recently had a long visit from two members from our Twinned Church at M'Buka in Lilongwe , Malawi. Mr Pope Mzumara a businessman and Mr Yowass Nkhoma Headteacher of the Church school there came to New Deer. While they were here they were entertained to meals by various members of the congregation - and they visited lots of places including schools, other churches and places of interest to them. They were taken to Aviemore and went up Cairngorm on the funicular railway and also they visited Blantyre, the Birthplace of David Livingstone. This was of particular interest to them. ... (Show full article)
Following on from the success of our previous Puppet Ministry, we have several youngsters and adults meeting from time to time to practise then perform within the service. If you are interested in joining, please contact Wilma Elphinstone at the Church.



This website is best viewed on a high colour screen at 1024x768 pixels (though it should be compatible with lower ones). If you have problems viewing any part of the site, please contact the webmaster by email - webmaster(at)stkanes.org.uk.